As mentioned back in August, knit-a-square has been working on a KasDesigner Pattern Series.  Continuing on Zina's idea and the contributions of Lucy Neatby, Diana Troldahl and Kristeen Griffin-Grimes I am pleased to feature Ilga Leja and her KAS design, Shadow Boxes.
Ilga promises Classic Knitting Designs for the Handknitter and does she ever deliver!  Her website and blog are well worth a visit.  Be sure to linger and treat yourself to a pattern or two and read about Ilga's Yarn Taster's Club for 2011.
I can't stop myself from sharing Ilga's You Tube video here as it focuses on one of my favourite patterns, Straw into Gold. This video, filmed on a beautiful summer day in Nova Scotia, is an utter delight for the senses.  During the cold, dark nights of winter I enjoy working on warm, summery designs as a contrast to the snow and ice winter brings.  If you live south of the equator this collection is definitely for you!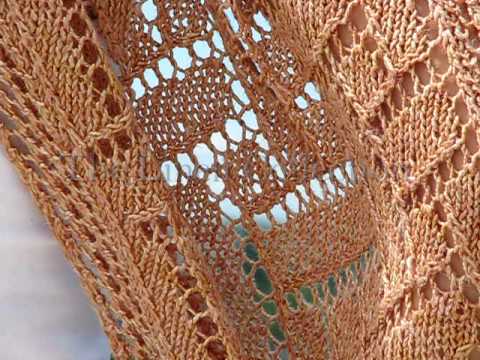 While I'm partial to the Linen Collection I would be remiss if I didn't mention Ilga's newest designs: The Far North Collection.  Especially helpful for those of us living in the Northern Hemisphere, this collection offers a pair of leg warmers, an ample cowl and an oversized wrap.  These designs are great for dressing in layers to keep you warmer this winter.
Whatever the holiday or occasion if you like to knit for those you love check out Gift List: 10 Knitted Gifts for Every Occasion.
Once again I find myself just weeks from Christmas wishing I had started a little earlier (well, months ago really) so I can gift those I care about with something warm, beautiful and made especially for them.  I think this reasonably priced e-book ($19.95 for 10 designs) is just the ticket!
Ilga's designs show that she has a way with warming knitters and their recipients; a true genius in blending utility with beauty and grace. What you may not know is that Ilga is herself warm and gracious.  When asked if she would lend her time and talents to knit-a-square she not only said yes, but said yes without hesitation.  What's more she thanked me for giving her the chance to be part of this endeavor.  Her blanket square, Shadow Boxes, is featured in her new e-book.  You can also print the pattern here. Consider it an early holiday present from Ilga and knit-a-square.  Thank you Ilga for your kind and enthusiastic support!
Ilga has mentioned to me how perfect Shadow Boxes is for children in a KasKids school program who have a good grasp of knitting and purling.  I couldn't agree more.  It's the perfect design for teaching kids to follow a pattern while keeping them entertained and delighted as they create the optical illusion.  This reversible blanket square will be a lovely addition to any of our blankets. I dare you to see if you can knit just one
If you love children and enjoy knitting why not teach a child or two to knit?  You'll be sharing your skills with them while giving them a pastime that doesn't require any batteries or electricity.  For the brave and bold among us please consider starting a KasKids group in your community, a local school or your place of worship.  I think you'll be glad you did! Children are naturally compassionate, just waiting for a chance to do a good service for others.  It is a real pleasure to watch them as their skills grow and to hear them speak with great care and concern for the orphans; children they most likely will never meet and yet they hold in high esteem.
Knit-a-square remains grateful beyond words for our loyal supporters who lovingly knit/crochet and/or donate funds in support of the orphans. Together we are making a difference in the lives of the orphaned and abandoned children of South Africa.