In the lead up to this year's World Cup 1GOAL asked the world to speak up for the right of every child to an education. Millions responded, pressuring world leaders to act. (If you are not familiar with the  campaign you may want to read the post I wrote in June.)
It's hard to believe it's been six weeks already since the last vuvuzela sounded and world leaders met in South Africa to discuss the critical issue of education. The upcoming UN Summit is only four weeks away. It is time once again to speak up for those who cannot; for the orphaned and vulnerable children of South Africa and across the globe.
Can you imagine the future of the orphans we lovingly wrap blankets around if they were to be assured of a good education? There can be no doubt that education breaks the cycle of poverty.  Please write to Secretary General Ki-moon now and let him know you support Universal Primary Education.
"We must not fail the billions who look to the international community to fulfil the promise of the Millennium Declaration for a better world. Let us meet in September to keep the promise." UN Secretary General Ban Ki-moon
Due in part to organizations like 1GOAL we are making progress toward achieving the Millennium Development Goals.  The dream of a brighter tomorrow for all can become reality.
In closing, I want to share a video that makes me smile.  It was shot this summer when Shakira, a famous singer and outspoken supporter of education, visited a 1GOAL school in Soweto. It provides a glimpse of what has been accomplished thus far and serves as an upbeat reminder that there is still much work to be done. These happy, healthy school children, shown in their school uniforms, are a stark contrast to the children in the photo above. It is for these children (and the millions they represent) that we must continue to act.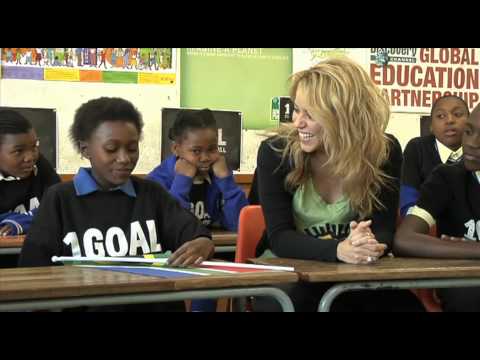 I hope you enjoyed watching this video and will take a moment of your time to share it in your social networks like Facebook and Twitter